This is the personal topic for Athlis the Amethyst! It is here that they may post any of their course-related material, including contributions to their field!
Magical Enchantments 101

ENC101-01-K.C. 630
Class Curriculum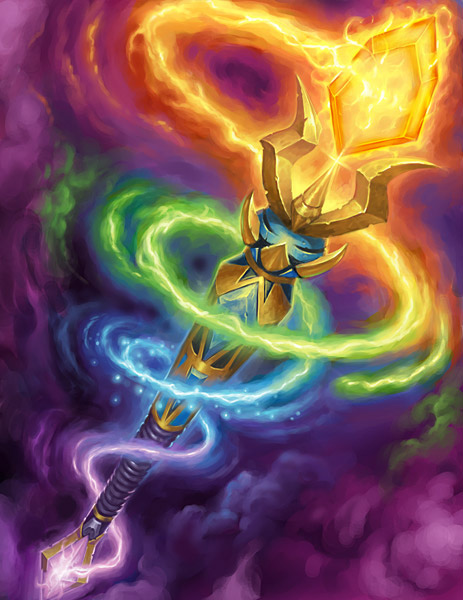 1. Purpose Statement:
To inform students of both the techniques involved with enchanting magical items and to instill a healthy respect for the power they create with those enchantments.
2. Outcome Statement:
Upon completion of this course, students will be expected to fully understand and be able to do the following;
Demonstrate an understanding of basic enchantments and how they are made
Identify different types of enchantments present in their everyday lives
Commit to living up to the responsibility of enchanting magical items and all that goes with it
Understand the dangers of putting a new magical item into the world without consideration for the potential side effects
Demonstrate a cursory knowledge of Magical Item and Artifact history
Exercise restraint in adding too much magic to the world when the purpose is unnecessary
All students will study and practice basic enchanting throughout the course of this class and will research the history of magical items. Tests and grades will reflect their comprehension and retention of the covered lessons as well as their ability to understand higher topics involving this subject.
3. Essential Resources:
Prerequisites -
Ability to cast mundane spells without trouble
Cursory knowledge of magical applications
Basic academic skills.
Required Books for Students -
The Schools of Arcane Magic - Enchantment by Archmage Ansirem Runeweaver
The Magical Tome of Magical Items by Aegwynn, Matriarch of Tirisfall
Higher Enchanting by Prince Kael'thas Sunstrider
Instructor Resources -
Host of magical items for demonstration and study (Provided by Instructor)
Full volume set of the Enchanting Encyclopedia (Provided by Instructor)
Basic spell components per semester
Classroom and available library
4. Strategy Framework:
Several techniques will be used to teach this class. Techniques can and will be adjusted on a student by student basis in order to adapt to individual needs and learning requirements.
Lecture - Most classes will primarily consist of an oral lecture designed to capture the student's attentions and get their minds thinking. Lectures will often lead into guided class discussion, projects for the day, or the practical application of lessons.
Cooperative Learning - Occasionally groups will be assigned within classes prompting students to work together to accomplish a task. This technique will be an important tool in stressing the value of relying on fellow mages to complete work responsibly and safely.
Gamification - Bi-monthly to Monthly, a special class day will be employed that serves as both an exciting participation activity and a test of the student's comprehension of presented topics. A challenge or contest will be employed that students must overcoming using the knowledge learned in class in the spirit of friendly competition with fellow students.
5. Verification Method:
This class will employ a combination of Formative and Summative Assessments throughout the semester. Formative Assessments will be used to attain a picture of the student's progress in learning as we move through the curriculum. A final, comprehensive, one on one Summative Assessment will be the final and primary method of judging a student's comprehension, retention, and ability with the course material. The Summative Assessment will also be the best judge of the instructor's ability to convey information effectively. Each successive Formative Assessment will be used to determine the student's aptitude and dedication as well as the instructor's effectiveness throughout the course.
The course will be broken up into four overall segments or modules. Each module will employ it's own successive quizzes and group projects to gauge student interaction, as well as a final test at the end of each module. Each test will consist of a mixture of a written portion, a multiple choice segment, and a live lab demonstration. Performance in these tests will have a significant impact on student performance but each test is weighted to ensure a student can perform poorly on one test and still have a chance of working back from their mistakes.
The final assessment will include a combination of the student's academic comprehension in a verbal interview one on one with the instructor, a live demonstration of ability, and presentation of the final Capstone Project.
6. Course Syllabus:

ENC101-01-K.C. 630

Credit Hours: 3
Instructor: Professor Athlis the Amethyst
Preferred method to contact the instructor: Office hours or Mail
Course Description:
This course is an introduction to the study of Magical Enchantments and magical enchanted Items across all of time and space. It introduces concepts and perspectives of the three sub schools of Enchantment; Charms, Imbuement, and Disenchantment. Focus is placed on the repercussions of using these skills as well as instilling a baseline ability to be expanded upon by further courses.
Delivery method: In person
Required Textbooks:
The Schools of Arcane Magic - Enchantment by Archmage Ansirem Runeweaver
The Magical Tome of Magical Items by Aegwynn, Matriarch of Tirisfall
Higher Enchanting by Prince Kael'thas Sunstrider
Student Learning Outcomes
Magical Aptitude:
Students will be able to create basic magical enchantments as well as be able to cast the core Charm Spells.
Students will be able to imbue items with minor magical enhancements or animations.
Critical Thinking:
Students will be able to demonstrate their analytical reasoning abilities to interpret, evaluate and synthesize existing enchantments.
Cultural and Global Awareness:
Students will develop a set of skills that support effective and appropriate interaction in a world that grows more magical by the day.
Students will be able to critically analyze and engage with complex global systems built upon the use of enchanted magical technology.
Topical/Module Outline (see course schedule for readings, assignments, and due dates):
HISTORY OF MAGICAL ITEMS

What are Magical Items?
Relation to Other Schools of Magic
Taxonomy of Enchanted Artifacts
Impact of major Magical Items through the ages

INTRODUCTION TO CHARMS


What are Charms?
Core Charms
Knowing when to Charm and when not to Charm

INTRODUCTION TO ENCHANTMENTS

What are Enchantments?
Methods of Enchanting
Prehistory and its relationship to the development of Enchantments

ENCHANTING AND DISENCHANTING


Imbuement
Disenchantment
Filling a need with magical application
Mastering the basics of Enchantment
Grading:
| | | | |
| --- | --- | --- | --- |
| A | 90-100 | D | 60-69 |
| B | 80-89 | F | 50-59 |
| C | 70-79 | | |
Method(s) of Evaluation/Assessment:
Module 1, weeks 1-3. Individual Assignments, Four quizzes, Final Exam
Module 2, weeks 4-6. Individual Assignments, Group Assignments, Three quizzes, Final Exam
Module 3, weeks 7-10. Individual Assignments, Group Assignments, Four quizzes, Final Exam
Module 4, weeks 11-16. Individual Assignments, Group Assignments, Group Project, Six quizzes, Capstone Project
Final Assessment
Expectations: Any decision that the instructor makes regarding the class polices (or exceptions to them) will be made in fairness to the class.
As an SWU student, it is important that you familiarize yourself with SWU Student Rights and Responsibilities.
Special Note: The use of another person's words, ideas, organization or approach – be it published material, someone's help/advice – without crediting that person at the time of use is considered plagiarism. Plagiarism is intellectually dishonest and cheats the student who commits it out of valuable learning and diminishes the hard work of other students. It will also result in failure of the assignment and potentially failing the course. Consult your student handbook for more information.
7. Capstone Project:
Students will spend the course of this class semester learning about the basic spells and charms that can be manipulated into lasting enchantments on magical items. They will demonstrate their comprehension and aptitude with the course material but successfully enchanting a new magical item of their choosing. Enchantments will be approved on a one on one basis with the instructor to ensure an appropriate and achievable goal has been set by the student. Students will be encouraged to seek assistance from other students for help on their Capstone Project. Continual oversight by the instructor will ensure students are still creating original work.
While the final assessment will determine the student's retention of knowledge and ability to disseminate information back to the instructor, their personal Enchantment project will serve as the primary judge of their ability. Students will be required to present their creation, explain the inspiration for it and the process used to achieve a permanent enchantment. Students will also be expected to demonstrate the item's use for the Instructor.
An important purpose of this project is to ensure students maintain a constant awareness of ways that their magical creation can be used improperly. Students must be aware of the side effects and potential repercussions of creating a lasting magical item that could someday be used to sunder the world entire if they are careless. Failure to adhere to this concept over the course of a student's work on this project will result in overall failure of the class.