((Because I am much better at explaining my character through prose, I thought the best way to sorta snap shot bits of Odine's history would be to describe things that Odine paints by way of what led to the paintings. The paintings, by the way, are NOT mine - just things I felt fitting that I found on the internet. So this is the first one of those.))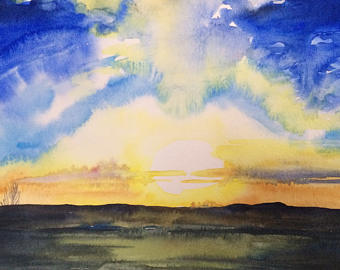 I am six years old, sitting at my father's knee in a patch of afternoon sunlight. The air sparkles with motes of dust. It smells of saddle soap and grease. Papa is scrubbing the grit out of the joints in his armor and I am pretending to read the primer I have been assigned for evening school work.
"Papa," I say, quietly. My fingers rub against the page I have not turned in half a bell. I am near to bursting with a question I am still trying to form. I have been searching for how to describe what I want to understand, a thing that has never happened to me at all, and I believe this may be the only chance I have to ask.

"Mmmm?" he murmurs over the rustle of his dust rag.
"Whassit mean when someone … strikes ya wit' their face instead o' their 'and?"

My father looks down at me, his hand paused over a silver knee joint. "'S'cuse me?"
"'M'sorry - I thought th' word 'hit', t'would be wrong. Didn't hurt. But I didn't understand it."

"Describe it, Sugar," he says carefully, resuming his work with the armor.
"Well, Jaimael Carlin pushed 'is nose and 'is lips on my face. So I thought twas like hitting someone, just with your face - but t'didn't hurt like hitting does."
There is a glint of something in Papa's eyes that I believe to be amusement, but it does not touch his cheeks so I think he is trying to hide it. "Ah. 'E kissed ya, Sugar."
"Kissed?" I ask, tasting this word for the first time.
"Who kissed what now?"
Papa and I look up simultaneously, me with fear and him with surprise. She is framed by the doorway, blue cloak draped over her arm like the sky hidden under stormclouds. It is unusual for him not to hear Mama entering the house -- it is even more unusual for me not to notice.
Papa answers for me. Probably he knows I am too nervous to reply. "Onna th'boys at Odine's school kissed 'er."
My mother scowls at me. "What did you do?"
"Nothing," I whisper. This is, however, a little bit of a lie. I was teasing Jai for his spectacularly large feet - but so were all the other children in the circle. So I wasn't doing anything that the others weren't, and none of them had gotten this kiss thing.
But she always knows when it is a lie. Even a little one. Always. My father's hands return to stillness and her scowl grows darker. "You certainly did. You must have provoked him."
This word, I know. Provoking is what the enemy does.
"Idiots. They provoked that attack on the garrison."
"If they act too hastily, they may provoke Lordaeron."
"Y'can't fine me fer knockin' 'im out, Bailiff. 'E provoked me."
The smells of soap is joined by the tang of lightning in the air. I shrink away from her angry gaze, casting my eyes down and waiting. I know the word, because provoking is what I do to her nearly every day.
Papa's armor squeaks as he shifts in his seat. Mama turns away, taking the burnt sky with her.
I never return to the school. The next morning, Mama leaves me in the house with only mute Darrien for company, and withdraws my name from the roll. I sit in my bedroom, staring out the window and watching dandelion seeds drift on a lazy breeze. The lake glistens near-white with high sunlight, making shadows dance in my eyes.
For once, the silence is comfortable. I have learned a new word. And I have learned that there are two kinds of harm you can commit when you are provoked; hitting, which hurts the body, and kissing, which does not.